If you are a parent or you are planning to become one, then you will know how important it is to get a safe and comfortable car seat for your baby. We have listed the 10 best travel car seats for 2-year-old.
Buying a car seat for your child is one of the biggest investments you will make for your little one. It is essential to choose a car seat that will fit your vehicle and will protect your child from injury. If you have a new baby, then you might want to get a convertible car seat. There are plenty of convertible car seats on the market. However, you need to make sure that you buy the best convertible car seat for your needs.
There are many different types of car seats available for kids. However, you need to know which one is best for your child and the type of vehicle you are driving. In this post, we have compiled a list of the 10 best travel car seats for 2 year old.
Read More: Best Convertible Stroller in 2022
Tips on choosing the right car seat for your 2 Years Kid
You'll notice that I included "shell height" and "maximum harness height" in the breakdowns below. What do they imply and why are they important?
Seats with a sufficient shell height, measured from the floor to the top of the seat above the child's head, are required for rear-facing. When youngsters are rear-facing, there has to be at least 1 inch of shell height over the top of their heads, according to most car seats. When your child is facing backward, the height of the harness is less of a concern since the straps should always be worn below the child's shoulders.
In forward-facing, the maximum harness height becomes an issue. This is the vertical distance between the floor of the seat and the top of the safety belt adjustment range. The maximum height of the harness is usually the limiting constraint for the forward-facing extension of a seat, as your child's shoulders should always be below the harness. In terms of shell height, it's preferable if the tops of the ears fit within the shell (but some protrusion at the top of the head is OK).
The other weight, height, and age limitations are relatively self-explanatory. Manufacturers (rightly?) assume that your youngster is wearing clothing and even shoes in their car seat, so you may include them in for weight.
Best Travel car seat for 2-year-old
Many safety advocates encourage parents to keep their children rear-facing until closer to 4, which is when the Parentstock expert suggests that youngsters stop using rear-facing car seats. Some of the travel convertible car seats on our list will keep all children rear-facing for as long as four years, but the first few choices are best suited for little or normal 2-year-olds, so you may want to look elsewhere if your child is very tall.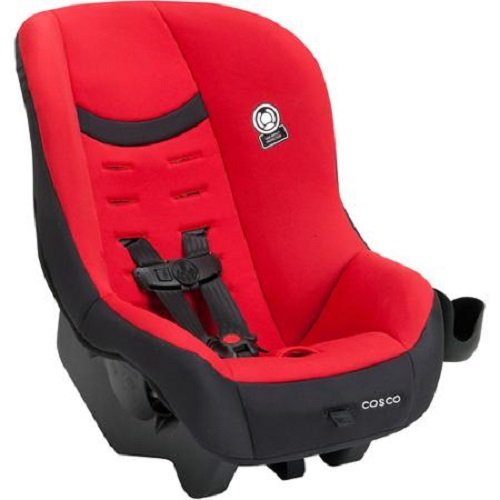 As far as convertible car seats go, the Cosco Scenera Next DLX is the gold standard. Just why does it have such astronomical levels of popularity? It's a breeze on the scales and the bank account! The Cosco Scenera Next is the best convertible car seat for toddlers since it is the least priced and the lightest option (it can also be purchased from Amazon, although at a higher price).
How little do you think it weighs, exactly? A car seat backpack like this one makes transporting it through airports hassle-free, and some parents even use the hooks to attach it to the stroller's back.
Some children may outgrow the Scenera too quickly, though, since the upper harness slots are just 13.5″ in height. The next step is to have them face forward while they are still in the rear-facing position for another year or two. When looking forward, your child's straps should come from above their shoulders.
As a result of the small shell, relatively few children will achieve the 40-inch height requirement with the necessary 1-inch headroom while riding rear-facing. Although this isn't a dealbreaker when shopping for a car seat for a baby of a year or less, it is something to think about when evaluating the seat's durability.
It's an ideal 2-year-old portable car seat for city travels due to its small shell and low weight. The Scenera + Nano is a popular pairing since the Mountain Buggy Nano features a car seat strap.
The Cosco Scenera Next is an economical car seat that keeps youngsters rear-facing until 2yo. What's wrong? We had trouble getting a tight installation (particularly on leather seats), and the patterned seat we bought had no cushioning. Preschoolers may not notice or complain, but ours did.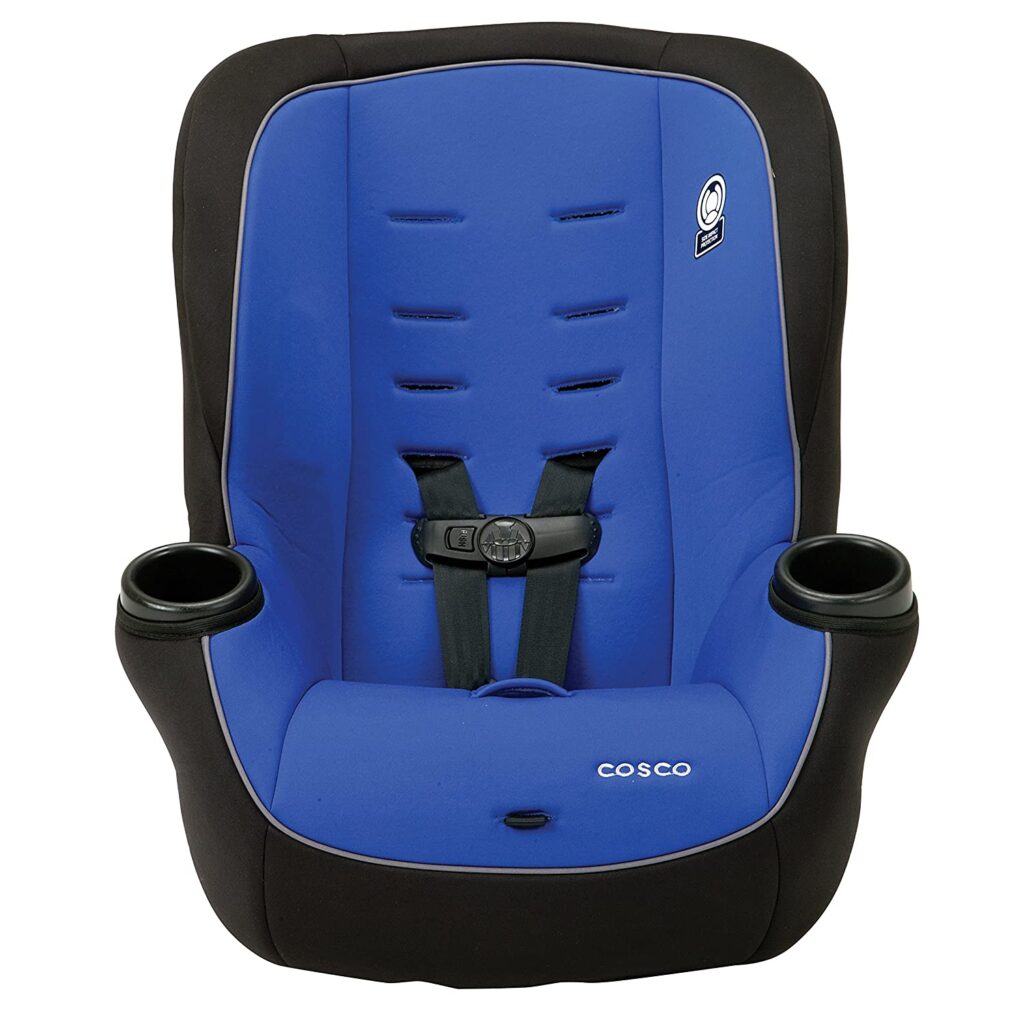 Cosco replaced the Scenera with the Scenera Next and Scenera Next DLX and the Apt with the Apt 50. Why does Dorel make both of those chairs and the Cosco Mighty Fit 65?
There's a lot of overlap between the three seats, so it's worth evaluating them all to make sure you choose the right one.
The Apt 50 is similar to the Scenera Next. It's one of the lightest convertible car seats, well-priced, and has few frills.
The shell height is identical to the Scenera Next, so it won't give you more time rear-facing, but the increased harness height and weight restriction allow youngsters to forward face until at least 4 years old. It's a good option if you want a cheap convertible car seat for travel that permits prolonged rear-facing.
Apt 50 is several inches broader towards the top than Scenera Next. It's not ideal for three-across in a small European rental vehicle. It has to be highly reclined for kids under 22lbs, thus rear-facing with a newborn may be difficult. Bring a locking clip if you're going internationally.
All Cosco seats need the top tether. You may not locate one outside the US, Canada, EU, Australia, or New Zealand (or in an older automobile in one of those areas). In such a case, you must decide whether to install your car seat against the manufacturer's instructions.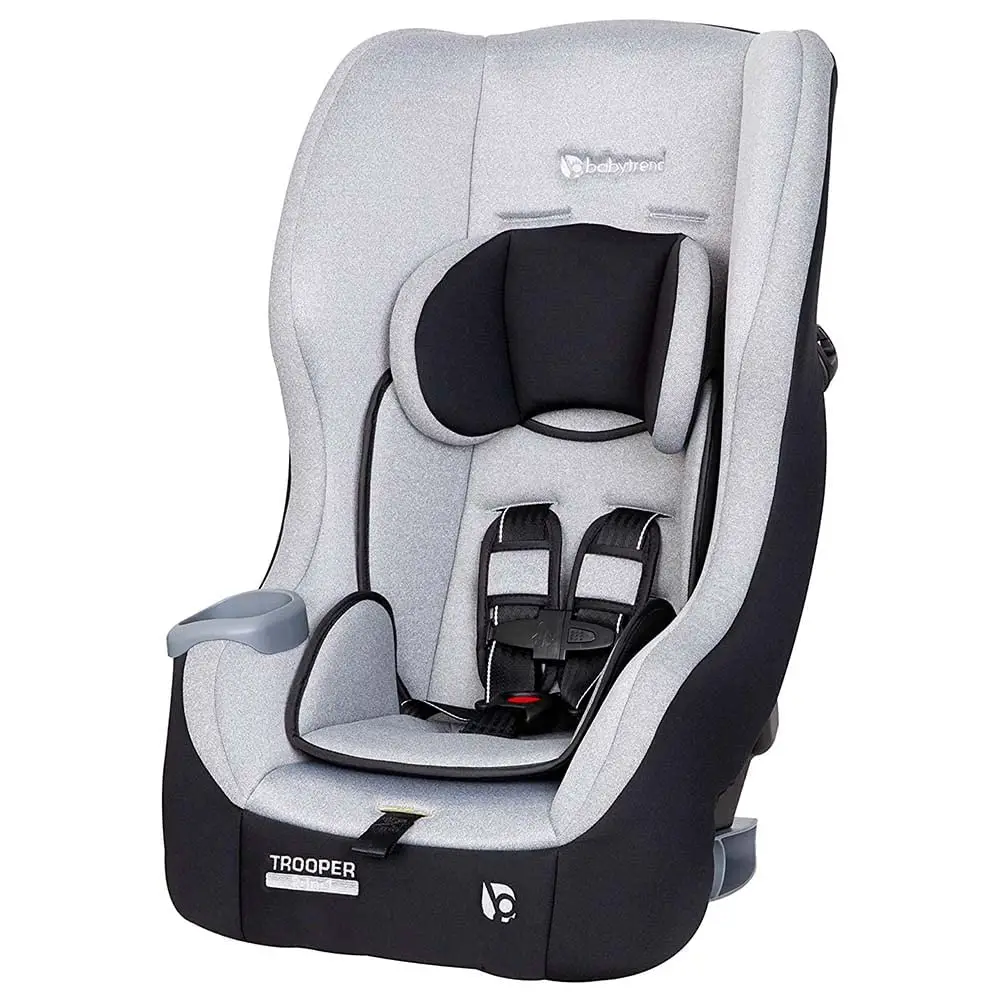 Baby Trend's latest small car seat has something to offer traveling parents. The Baby Trend Trooper convertible car seat is great for traveling families.
Great? It's 10 lbs. and slim. The Cosco Scenera Next is narrower. The Baby Trend Trooper fits most toddlers till age 6. Higher price, but twice the usage! The Trooper features a body cushion, head pillow, and harness pads (some with weight limitations).
I don't suggest the Baby Trend Trooper for kids under 23lbs. The car seat fits your infant nicely, but the severe recline takes up a lot of room. After 23 pounds, it's lot more compact (around 18 months on average).
The Trooper won't last as long as the Evenflo Sonus 65 for forward-facing, but its compact design may make up for it.
Baby Trend's labelling and instructions are impressive. Clear labelling help reduce the abuse of car seats. Baby Trend lists the insert's weight restriction. The seat labels infant harness routing. The harness's stripes indicate it's flat and untwisted. Instead of looking for red text, flight attendants might look at a photograph of an aircraft.
It's a helpful handbook. Truly! Each component has a cleaning page. Another page describes the seat's cushion. Parent safety checklist. The booklet provides easy-to-understand instructions for using a car seat. Scannable QR codes link to installation videos.
Best Travel car seat for 2 year old: Another Cosco car seat! This one is old but has acquired popularity due to new branding. Dorel's Safety 1st Guide 65 has been renamed the Cosco Mighty Fit 65 DLX as a longer-lasting convertible car seat. Walmart has the greatest prices on Cosco car seats. The DLX version has great cushioning for youngster comfort.
The Guide 65 has been a reliable travel car seat for many years. It'll last rear-facing youngsters until they're ready for forward-facing and a few years beyond until they're ready for our favorite travel booster seats. It's tall, but not the tallest. This portable car seat for a 2-year-old should last your family a while.
The extreme recline required for toddlers under 22lbs is difficult to attain without a pool noodle or wrapped towel – not ideal travel gear. It's one of the heavier alternatives on our list but lacks some of the newer Evenflo Sonus 65's features.
The Mighty Fit 65 needs the top tether while forward-facing for foreign travel. Top tethers reduce head movement, which is helpful. In Asia, Africa, Central, and South America, and Eastern Europe, many automobiles lack a top tether. When you can't follow the manufacturer's instructions, you must use your own judgment.
Mighty Fit 65 LATCH installation is limited to 40 pounds. Both ways are safe, but for international travel, I suggest taking a locking clip and understanding how to apply it in case you meet a vehicle with unlocked seatbelts.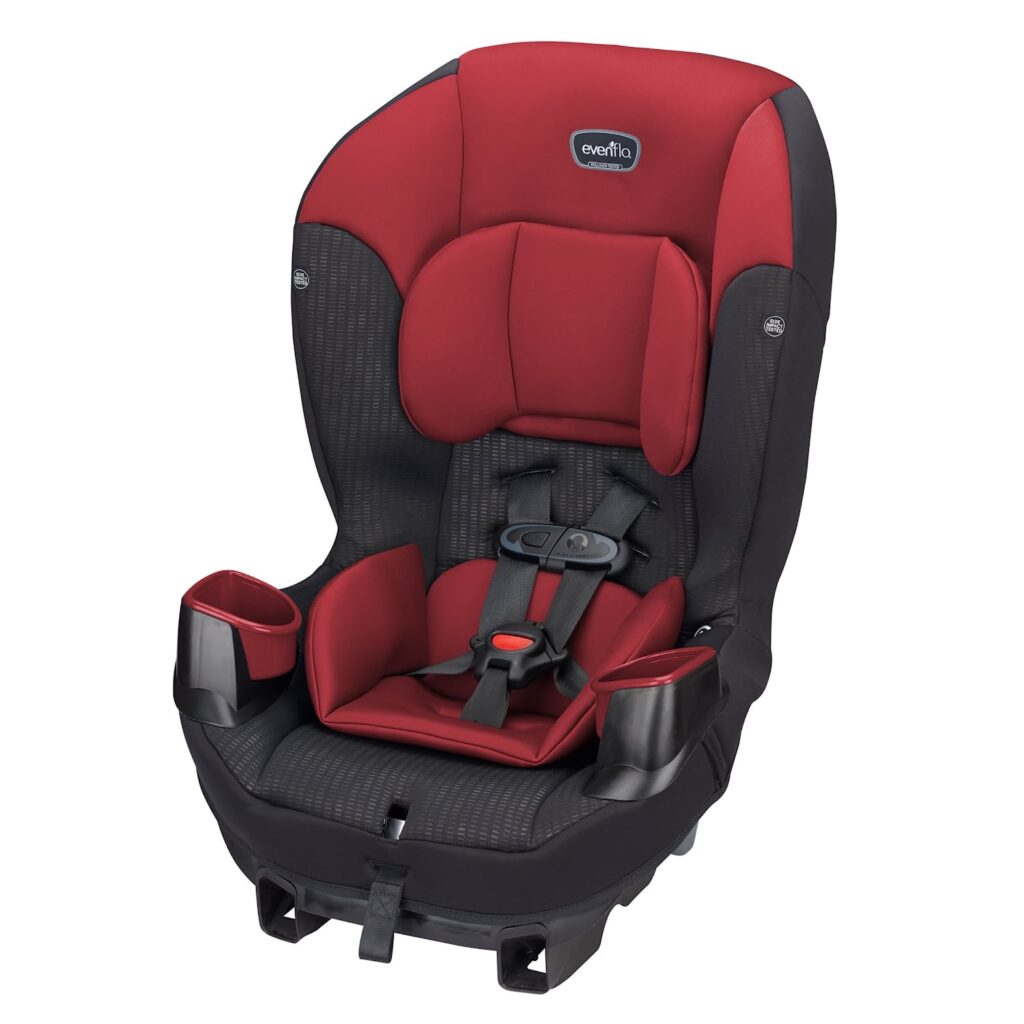 Best Travel car seat for 2 year old: I'm particularly enthusiastic about the Evenflo Sonus 65. Yes, being thrilled over a car seat is definitely harmful.
I've used it in shops and CPST training and am pleased. It's light, cushioned, tall enough to keep most kids secure, and economical enough for most families.
Its outstanding features will have you using it at home, too. If you have two cars, this is a wonderful option for trips and/or your second vehicle.
The Evenflo Sonus has 18″ top harness slots, so it's durable. If you purchase it used, it will last for years.
The Evenflo Sonus 65 is an FAA-approved car seat that may be put rear- or forward-facing aboard an aircraft. It includes a two-position reclining wedge for aircraft and autos.
If your airline has a restricted seat pitch, installing the Sonus 65 rear-facing may be difficult. If your kid is old and large enough, try forward-facing on the plane and rear-facing in the automobile. Your toddler may utilize the tray table on many flights since it's low profile.
The Sonus 3-across may be difficult to put next to a car seat facing the same way because to its extra-protective headwinds.
Families with more money might choose the Evenflo Stratos. It resembles the Evenflo Sonus 65 but has premium push-on lower anchors for quicker installation and an adjustable headrest for forward-facing capacity.
Best Travel car seat for 2 year old: Evenflo cares about tall kids, too. The Evenflo Sureride DLX is a terrific option if your kid is off the charts or you want her to remain tethered through elementary school. It's the greatest travel car seat for tall toddlers, but only rear-faces to 40lbs (like all the other lightweight car seats on the market).
The 19-inch harness height is comparable to more costly rear-facing car seats, and the 26.5-inch shell is tall. It'll also suit an average 2-year-old (and smaller youngsters!).
The Sureride has limited functionality, but it works. It passes all Federal crash tests, which reminds us not to evaluate a car seat by its price.
Surerides stack like Pringles chips, so you can carry two car seats on the same stroller or travel cart (maybe with a bungee cord around them just to be safe).
The Evenflo Sureride's main disadvantage is its tall shell. It keeps tall kids rear-facing longer (and older kids secured forward-facing longer), but it's harder to fit in compact areas.
If you're traveling a bargain airline with a tiny seat pitch or renting a compact automobile, rear-facing may be difficult. As shown above, your youngster shouldn't utilize the tray table. The Sureride may be overkill for average or smaller 2-year-olds and families that intend to move to a Ride Safer vest at 4 or a booster seat around 5 years old.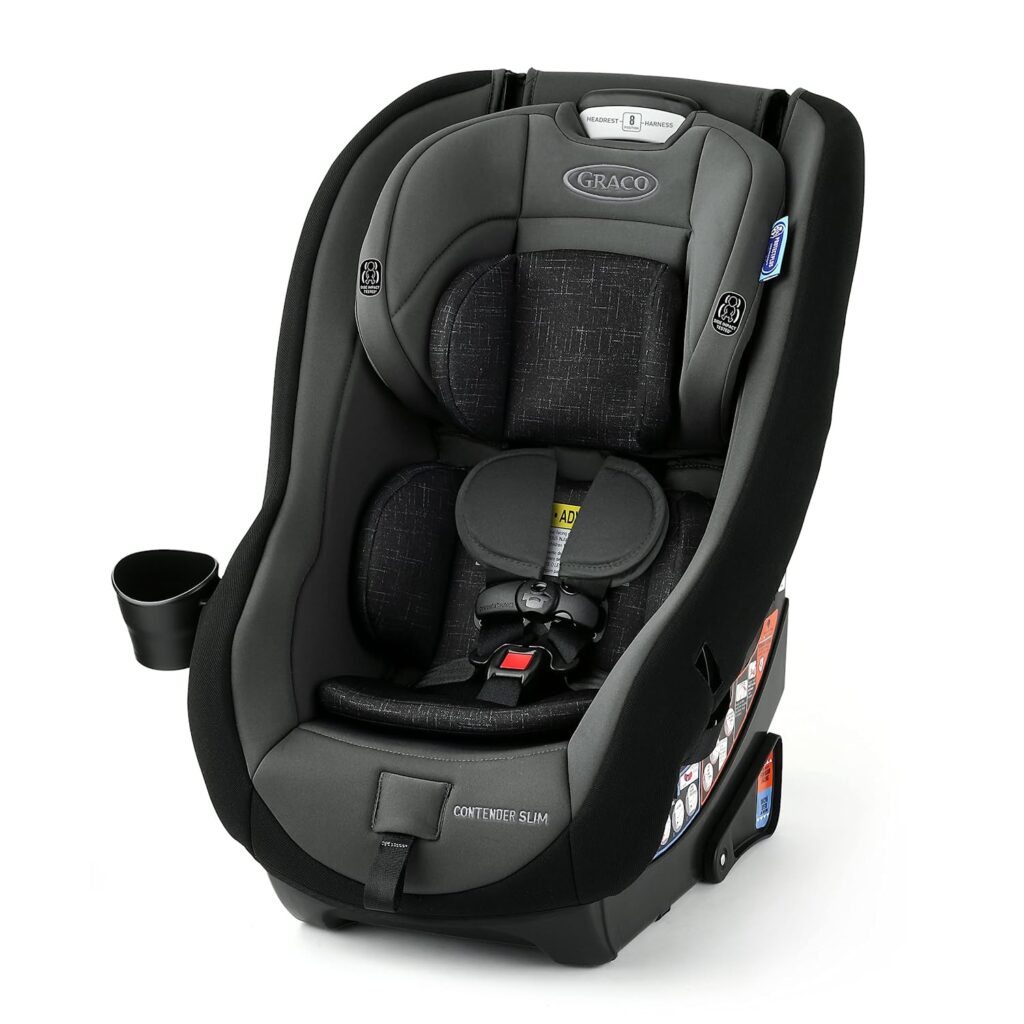 Best Travel car seat for 2 year old: What's a 15-pound kid car seat doing among featherweights? If you have a forward-facing youngster now or soon, consider the Graco Contender 65 (or its twin, the Graco Admiral 65).
The Contender has a cool secret. The forward-facing belt route is closed, unlike other lightweight car seats. Closed-belt route A panel separates your child's back from the seat belt buckle. Having traveled long-haul with forward-facing kids, I can attest to their comfort.
It also offers adequate cushioning, a cup holder, and fast installation. This is a long-lasting daily seat.
The size is the main disadvantage compared to other solutions. It'll be harder to transport than a lightweight car seat. This would be useful.
The new Wayb Pico is one of the best child travel gadgets we've seen. Their 2018 Indiegogo campaign was everywhere on Facebook. Assured? A lightweight, foldable 5-point harness car seat. Families may traverse globe safely.
Their promise was mostly fulfilled. Pico is the ideal option for some families, but not others. Expert Wayb Pico review.
Wayb Pico is compact and simple to use. The weight is roughly the same as the Cosco Scenera Next, but it folds up little (and even packs into its own bag!) so you can carry it with you for spur-of-the-moment cab journeys.
Folding forward-facing strapped car seats aren't new. Uber Family's car seat has been around for years. Previous seats needed a top tether. Without it, chairs fall over. Within the US, Canada, or Western Europe, that's OK.
Using these car seats outside these locations may be difficult. In South America, Morocco, and Thailand, many automobiles lack top tethers, making seats like the IMMI Go unusable. If required, you may use the Wayb Pico without the top tether.
The 45″ height restriction and 16.5″ harness slots are too low for some families. Many kids outgrow it between 5-5.5 years old, but if you get it around 2 that's a few years of use (and more if you can pass it down to a younger sibling). 5-5.5-year-olds outgrow it.
FAQs: Car seat for 2 year old toddlers
Please advise as to the appropriate car seat for a two-year-old.
At two years old, a rear-facing convertible car seat is the safest option. Even though many jurisdictions allow children to ride forward-facing after their first or second birthdays, it is strongly recommended that children remain rear-facing until at least age 2. This reduces the risk of major neck and spinal injuries. Many parents now continue to have their children ride in rear-facing car seats until they are 4 or 5 years old, despite the American Academy of Pediatrics' recommendation that this practise be continued until the child hits the seat's height and weight restrictions.
For toddlers aged 2 years old, what is the most suitable car seat?
The greatest car seat is the one that perfectly fits your kid, instals in your vehicle, doesn't break the bank, and is used properly each and every time. If you need to seat three children crosswise, have limited front-to-back room, or have particularly tall children, selecting a convertible car seat might be a challenge. Best car seats for two-year-olds vary depending on the child and the vehicle.
I need advice on the best car seat for my two-year-old.
No one save the car seat's maker can confidently state which model is the safest for a 2-year-old child in a vehicle. In the United States, the federal government tests every car seat on the market, but almost all manufacturers keep test data under wraps. Any such claims would be meaningless since there is no federal standard for either roll over or side impact testing.
Therefore, it is impossible to determine which seat is the safest. If used correctly and to the rear-facing restrictions of the product, your kid will be safe in the great majority of incidents. Some seats, however, come with added safety features like anti-rebound bars, load legs, supplementary side impact protection, and more, all of which are likely to be helpful.
When should a child be moved to a toddler car seat?
The phrase "toddler car seat" isn't used in the industry. There are a few different types of car seats available for toddlers (forward facing car seats that transition to booster). You should get a convertible car seat for a 2 year old since it is safer to keep your kid rear-facing for as long as possible, preferably until age 4 or even later.
Between the ages of 12 and 18 months, most children outgrow their infant car seats and go on to a convertible seat. While certain convertible car seats need to be replaced after just three or four years of use, the vast majority may be used until the child is six (or even longer).
Is it OK to put a 2 year kid in a booster seat?
No way. No matter how large a 2-year-physique old's is, the bones within are still those of a 1-year-old. A booster seat isn't safe for a child with such weak bones. Since an adult seatbelt is only effective when properly positioned, a booster seat isn't a good idea until the youngster is old enough to sit in the right position every time. Although the CDC recommends that children use a booster seat beginning at age 5, many children are not yet ready for one until they are 6 or 7 years old.